Choose from 4 simple ways to pay: single payment, 12 monthly instalments, credit finance arrangement of between 2- 8 years or by way of fixed monthly payments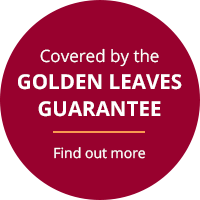 At Golden Leaves, we're dedicated to offering the best funeral plans that are tailored to your needs and requirements. We have four types of funeral packages: Copper, Zinc, Silver and Gold. This page shows the differences between them and helps you to compare funeral costs, so you can choose the right funeral for you and your family.
Funeral Director Professional Fees:
The professional fees are for the services carried out by funeral directors to conduct either a cremation, or burial funeral. Your allocated funeral directors will assist with all documentation required for a funeral to take place and make the relevant bookings at either the crematorium or cemetery.
They will ensure that when the time comes the planholder is taken into their care and looked after until the day of their funeral. Please take a look at the plan comparison table to the right which shows the services that are included in each of the Golden Leaves funeral plans.
Third Party Fees:
These are costs for essential, non-funeral director services required to carry out a cremation or burial. Funeral directors cannot control these costs and these fees need to be paid at the time of the funeral. These costs are paid by us or by the selected funeral director to other suppliers or professionals to carry out funeral services.
If your plan does not guarantee these costs but includes a contribution only, please note that your estate or next of kin may have to pay the balance if this is more than this amount.
Golden Leaves Funeral Plans Comparison Table
Copper

Zinc

Silver

Gold

Retail Plan Price (payment in full or 12 months instalments)

£1,450

£3089

£3,594

£3,949

Funeral Type:

Cremation

Burial

Funeral Directors Fees:

Funeral director's professional services

Funeral registration, documentation and certification

Removal from the place of death to funeral director's premises 24 hours

Removal from the place of death to funeral director's premises in normal working hours

Funeral Service at the crematorium/cemetery

Care of deceased prior to funeral

Chapel of Rest available for family and friends to visit

Customer can choose the date and time of the funeral

Basic coffin

Standard coffin

Attendance of conductor and four pallbearers on day of funeral

Bereavement counselling (where available)

Provision of hearse for service at crematorium/cemetery

Provision of one limousine

Return of Ashes via private driver (Monday to Friday excluding Bank Holidays)

Third Party Fees Cremation Funerals:

Guaranteed cremation fees

Guaranteed doctors fees

Guaranteed minister fees

Contribution towards third party fees

£931

Third Party Fees Burial Funeral :

Burial funerals - contribution towards third party fees

£931

What our plans do not include:

Purchase of and ashes interment plot

Purchase of a burial plot

Allowance towards flowers

Allowance towards a memorial

Order of service sheets

Church costs for a funeral service

Embalming

Removal of medical implants